Family Court Advocate Thiruvananthapuram
Kerala Administrative Tribunal
Advocate Kerala Administrative Tribunal.
            Deals with service matter cases. Contact at the above number.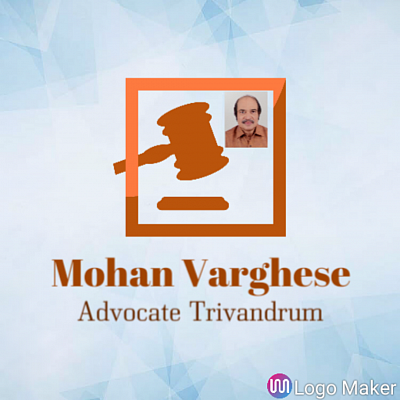 Family Court Advocate
 Advocate Mohan Varghese
Advocate/Lawyer, Trivandrum  (Thiruvananthapuram).
 Advocate dealing with Civil cases, Criminal cases, Family Court cases, Consumer cases,  Arbitration, Kerala Administrative Tribunal, Other Tribunals, Labour, MACT, LSGT, Lok Ayuktha, Human rights, Vanitha Commission, University and such other cases at Thiruvananthapuram, Neyyattinkara, Nedumangadu, Attingal as well as the High Court of Kerala. Assuring you the best of our services.
              Feel free to call. Brief your problem. Shall be at your service.
pH: 8281327605
        8921031825
advmohen@gmail.com.
Advocate Mohan Varghese.
Advocates Trivandrum/Advocate Mohan Varghese.
     Thank you very much for browsing my posts. You are quite welcome to the sevices of a Lawyer whom you can trust. I am personally assuring you the best of my services. I do deal with cases of different categories.
Fields of practice includes:
    Civil litigation, Legal services, Case assessment, Money suits, Contracts and agreements, Appellate advocacy, Property litigation, Legal settlement, Landlord/tenant issues, Equitable claims, Specific performance, Complaints against State Government/ Corporation and Torts.
       Criminal defence cases including General Criminal cases, Cheque cases, Anticipatory bail, Drug possession defence litigation, Sex offences defence litigation, POCSO cases, etc.
     Family court cases including Divorce, Maintenance, Guardianship issues, Recovery of gold ornaments, Domestic violence, Domestic relations issues, and the likes.
             Kerala State Government Services related issues (KAT),Labour disputes, Motor Accidents Claims Tribunal, LSGT cases, Lok Ayukta, Mediation and Arbitration litigation.
     Consumer disputes mainly of purchased goods, Deficiency in service rendered, Unfair trade practice, Unlawful Consumer related services and Appellate forum of the Kerala State Consumer Disputes Redressal Commission.
     Advocate Mohan Varghese.
    Ph: 8281327605
           8921031825
Email: advmohen@gmail.com